Did you ever have a dream where you are underdressed for an occasion? Like, you show up naked at school, or you are the only one who thought the big shindig was a "costume" party?

That is the feeling I used to have when I thought about another person looking at my writing. I mean, there is a lot of vulnerability in the writing process – you feel emotions, then you write them down. Even if they are "spun" to fit a character or a situation that has nothing to do with your reality, there is still a piece of you in that art. You might say that your artistic "fingerprint" is all over your work.

I believe that is what makes us feel vulnerable. After all, what do we know about fingerprints? They are individually created for each of us. There are no two humans who share them. Therefore, you are putting YOURSELF on display when you share your art.

I still struggle with this, but one thing that helps is to try to recognize that the greatest artist of all time has also left his fingerprint upon everything he created. He is an open book. All of what and who he is is on display for us to judge. Some of it is oh so easy to love; a newborn creature. A hug. Birdsong.

But he has also put himself out there for criticism; granting his very creation the liberty to shake its collective fist at him and ask him what the heck he was thinking when he wrote chapter 2020.

Our God is an awesome God. He is brave and bold and fearless. We serve him. He is our King.
Resting in this can give you what you need to overcome any feelings of fear or self-doubt. He's got you, in good times and bad.
And, frankly, why is the assumption that the experience is going to be bad? Why not just decide that, no matter what the outcome, sharing your work will be exactly what you need in order to become the writer you were called to be from the foundation of the world.
And isn't that really what it's all about?
See you soon,
Jamie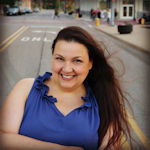 Jenifer Carll-Tong is the best-selling author of historical Christian romances and co-host of the Christian Indie Writers' Podcast.