The world has changed in the past couple of weeks. As a writer and reader of dystopian fiction, it has been difficult for me not to allow my imagination to project a bleak future upon our present reality.

When I am tempted to worry, I find myself reflecting upon the many ways the Bible uses allegory to comfort and encourage us. I am reminded of God depicted as the good shepherd, the picture of the faithful caretaker who will not leave even one of his sheep behind. I am reminded how he is compared to a good and gracious father, and referred to as a comforter.

(It is extra fun for me that the word "comforter," in modern parlance, means a snuggly blanket on your bed. LOL)

But seriously, it can be frightening to imagine some of the things we are told to prepare for eventually coming to pass. I hear these terrible things on the news, and the next thing you know, I've injected myself or my loved ones into those situations, and suddenly I have a case of the worries on my hands like nobody's business.

Been there. Like, uber-recently. LOL.

If you find yourself beset with worry, I want to encourage you, sister (or brother!), If you can, the next time you come up for air, please try – though it be difficult, try – to imagine the Lord of creation, wrapping those protecting, comforting arms around you. Don't worry if you feel you aren't doing it right." Don't worry if you don't feel like doing anything at all! It's hardest to believe when the storm is raging. Thank God, he is strong when we are weak.

Rest, my dear friend, as much as you are able, in the promises of the Lord.

Yours in Christ,

Jamie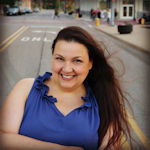 Jenifer Carll-Tong is the best-selling author of historical Christian romances and co-host of the Christian Indie Writers' Podcast.